Florence Anne Cooter (1912-2004): Purpose and Audience
Florence Anne Cooter reveals little in her nostalgic memoir as to why she is writing an autobiography nor does she reveal the motivation behind her writing. However, after reading her memoir thoroughly I do not believe Florence was writing for a public audience in order to gain any form of recognition for her work or let her voice be heard, as many other working class autobiographers were doing. In fact, she may not have even intended for a private audience for her own family. In studying her memoir, I found that Florence simply wrote with love and appreciation for her family: this is one of the reasons why her memoir is so touching.
'The autobiographers insisted upon their own histories… and they unanimously state that their reasons for writing are functional rather than aesthetic: to record lost experiences for future generations…to relive or amuse themselves; to understand themselves" (Gagnier, 342).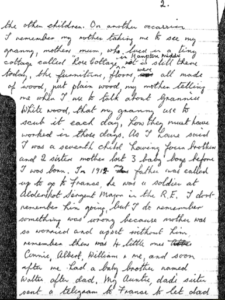 Florence began writing at the age of 65, beginning the first page of her memoir with the date at the top, almost like a diary entry although she only does this for the first page, leaving the time period of the writing unclear. However, we can presume that Florence's memoir was written over a number of years, firstly because it is 71,000 words long but also due to the fact Florence's writing changes during the course of her memoir, indicating it was written over multiple sittings.
On the last page of her memoir, Florence adds how her grandson Stephen is at school now – meaning he would need to be at least 4 years old – which again indicates our assumption that her writing this took course over a period of a few years and not during one sitting.
Florence's age at the time of her writing is important too, as often we tend to be more reflective the older we get. Her emphasis on the success of her children in education, work and family life perhaps made Florence reflect on the lack of her own education, her experience of work as a child and life as the seventh child of 10. In recalling her life events through the written memoir, Florence enables future generations of her family the opportunity to learn more about her life and the experiences she had when she is no longer there to do so herself.
The tone of the memoir is intimate, written in a first person narrative. Florence was so family orientated it was clear she wanted to recount her childhood in order to share with her own children, her grandchildren and the future generation of her family. At the end of her memoir, Florence changes from her use of "I" to the pronoun "we" emphasising the transition from reflecting on childhood and her early years, to reflecting on the more recent years of her life shared with her husband John and their family:
"Now we have 3 little boys to love and watch grow into strong, good, happy children… When I sit and think I cannot believe we have brought up 2 boys now we have 3 grandson how time flys".
Although there is no way of knowing whether or not Florence did have a clear purpose and audience in mind when she began writing the memoir, we can make our own assumption that perhaps she was just writing individually for herself in order to remember and relive the interesting and happy life she led.
Works Cited:
181 COOTER, Florence Anne, 'Seventh Child', MS, pp.71 (c.71,000 words). Brunel University Library found in John Burnett, David Vincent and David Mayall (eds) The Autobiography of the Working Class: An Annotated, Critical Bibliography 1790-1945, 3 vols. (Brighton: Harvester, 1984, 1987, 1989)
Gagnier, Regengia, 'Working-Class Autobiography, Subjectivity, and Gender.'
Victorian Studies 30.3 (1987): 335-363