Working-Class Women's Life-Writing on International Women's Day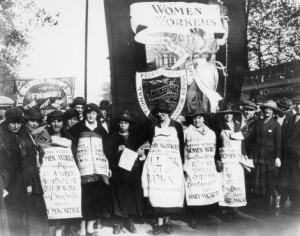 We are very excited to have been invited to share our research on working-class women's autobiography at the seminar at Oxford University. We are particularly honoured that on we will be involved in celebrating women's lives, writing and history. Soraya Nas and Catriona Parkinson, two of this year's Writing Lives student researchers, will be talking about their author blogs. will explain how students in the English Department at Liverpool John Moores University are contributing to a public history project to create a digital archive of working-class autobiography in Britain, from the 17th to the 21st century. She will also discuss some of our preliminary findings about working-class women's life-writing, based on our research on memoirs from the .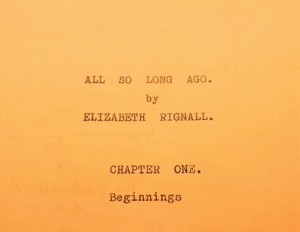 Soraya Nas will be talking about Elizabeth Rignall, born in Yorkshire in 1894. In her author blog, Soraya shows how Elizabeth's memoir, All So Long Ago, 'brings to light the overlooked lives of ordinary, working-class women' and 'the daily struggles Elizabeth faced in a society that systematically underestimated her capabilities due to her gender and low social status'. Elizabeth fought hard to become a teacher and wrote that she 'undoubtedly had more opportunities than most women born into the hum-drum "working class" of the "Naughty Nineties"'. 'This is precisely why I think it is important that her autobiography is made available through the Writing Lives project', says Soraya, 'as her writing champions the rare success story of a working class woman who was able to surpass the dominant gender and class distinctions of the time.'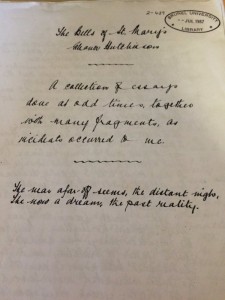 Catriona Parkinson will talk about her author blog on Eleanor Hutchinson, born in London in 1915, and her memoir, 'The Bells of St Mary'. 'Contributing to the writing lives collaborative research project has been an exceptionally insightful experience', says Catriona. Eleanor's family was devastated by the death of her mother and imprisonment of her father for his political activities and she spent much of her childhood in the workhouse. 'After reading and researching about the life of Eleanor Hutchinson', Catriona found that 'working-class autobiographies have not, and still do not, receive the recognition they deserve. Delving into Eleanor's troubled childhood has been a truly humbling experience, one that has provoked in me a new sense of appreciation for my own childhood experiences.'
Elizabeth Rignall and Eleanor Hutchinson are just two of the writers researched by 35 students this year in their terrific author blogs. Half of the autobiographies in the Burnett Archive are by women but all of them provide tantalising glimpses of the experiences of girls and women, as well as the gendered expectations on both sexes in the past. You can find our blogs by author and by theme.
Look out for our paper, which we will post at Writing Lives after our talk on Tuesday 8th March 2016.