Lilian Westall (born 1893): An Introduction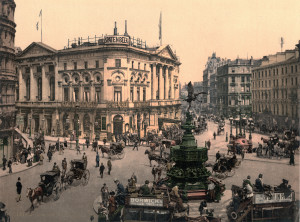 Figure 1 Piccadilly Circus Circa 1900
"I rarely raised my hand because pride held me back from admitting poverty"
Lilian Westall was born in the late 19th century, into a working class family in London, England.
Westall's memoir starts at the beginning of her life, in which she is tormented by an abusive, alcoholic father and the fact her life was 'cheerless'.
Her childhood was bleak and there are hardly any signs of her being a child. Her life was constantly about hardship and working. Even Christmas was described as 'a rarely happy affair'.
During this time, childhood and adulthood were not strictly divided. Children were seen as 'little adults' being allowed to smoke and drink, as no legal laws were set against it. Children could also be sent to adult prisons and had to be in work by the age of twelve. This is quite clear in Westall's memoir, as she never describes anything with a sense of youth or freedom. There is no imagination or indication of innocence. It is as though Westall had no opportunity to find who she was, or to grow into a woman.
Figure 2 A slum area of London, with working-class children.
The Children's Act of 1908 regarded childhood as lasting up to the age of 14. However, the Act was concerned with the protection of children at risk but did not affect children living in the family home. If there was no money, the children had to work. Westall describes how she had to constantly help her mother with the children and support the family whilst her father was away 'drinking'. 'Every morning I had the task of getting down to the butcher's shop before seven o'clock'. (3)
Laws and legality where only beneficial for upper class families. The class divide and segregation was very sharp. Areas of London were locally known by the people who settled there. King's Cross, where Westall grew up, was one of the most impoverished areas in London. A household, averagely, consisted of two or three families. Westall says that 'Two other families lived in the same house' as she and her family. Therefore, space was not an option and the safety of a child was ignored in this sense. There were no options to run around the house playing games, there was no room to even breathe for the most part. Westall makes a strong point about childhood by mentioning the lack of it, by making us see that there was no time for it, no money for it.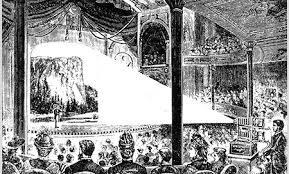 Figure 3 A Victorian Magic Lantern Show, in England.
Westall does mention going to a 'magic lantern show' held at Islington Town Hall, which is one of the few happy memories she had. This was something that would not be thought of as special nowadays. They had cakes and treats at the show, where only few children that had no tickets could slide in by the guards, 'These lucky ones would tear in, eat some cakes and stuff others in their pockets for their friends outside.' Westall shows that the working-class people helped each other, especially the children. Even though it seems small to steal cakes for a friend, it was like Christmas day for them at that time. Luxuries were 'cod's head' and a coat that fitted. The show was not important in the memoir, it was how the children worked together, to make their own happiness.
References
Westall, Lilian. 'The Good Old Days'. Burnett Archive of Working Class Autobiography, University of Brunel Library, Special Collection, 1:746
'Westall, Lilian', entry in The Autobiography of the British Working Class: An Annotated, Critical Bibliography, ed by John Burnett, David Vincent, and David Mayall (Harvester, Brighton 1984), vol 1, no. 746
Hiatt-Michael, Diana B. "Families, their children's education, and the public school: An historical review." Marriage & family review 43.1-2 (2008): 39-66.
Davin, Anna. "Child Labour, the Working‐Class Family, and Domestic Ideology in 19th Century Britain." Development and Change 13.4 (1982): 633-652.
Dyhouse, Carol. 'Working-Class Mothers and Infant Mortality in England, 1895-1914' Journal of Social History Vol. 12, No. 2. Oxford University. Web, accessed 10/10/2015, http://www.jstor.org/stable/3787138 Winter, 1978, pp. 248-267.
Images
Fig.1
Fig.2
Fig.3 http://www.victoriana.com/history/magiclanternshows.htm